The Compass Project
Navigating healthy, sustainable living
Latest News

Join us onsite at Compass, Craigton Road, Aberdeen, AB15 9QD for our next socially-distanced clear-up days:

Saturday 5th October 2021: 9.30am – 4pm
Register your interest by email or join our Facebook event page. 
We look forward to seeing you at the next clear-up day!  
Calling all young volunteers!
Sign up to the Saltire Awards and receive recognition of your time onsite with Compass! Find out more on their website.
Individual volunteers are also welcome to get in touch as some onsite work can be facilitated on a one-to-one basis outdoors during weekday afternoons. Email us with your availability!
   You can also follow us on Facebook!
Mental Health Awareness Week: May 2021
Keep up to date with the latest news, volunteering opportunities and project development by signing up to our newsletter!
Aberdeen Council of Voluntary Organisations (ACVO) have put together a superb video capturing the Compass project. We hope you enjoy this introduction which was filmed as part of Mental Health Awareness Week, May 2021.
Get involved!
If you would like to join us on future onsite days, sign-up as a volunteer by clicking on the green button. There'll be a wide range of outdoor tasks for you to get stuck into [weather-permitting] with lots of space to socially distance between groups.
Thank-you volunteers!
We are delighted that our onsite clear-up days have inspired a number of volunteers to lend a hand. The volunteer hours are already clocking up, helping to transform the site, see the pictures below. There's always plenty of tasks for more volunteers! 
Hiring spaces at Compass
While our spaces for hire are being prepared for use, we are inviting interested parties to get in touch with their proposals.
We would love to hear how you see the space at Compass being used.
Email us with your ideas!
Donate to the project!
You can support the project by donating through our
Virgin Money Giving Campaign. 

All donations no matter how big or small will help bring the Compass project to life. Cheque donations are also welcome. 
Directions newsletter
The latest edition of our Compass newsletter is now available to read.
Discover the updates in Issue 9 of Directions or read our earlier editions here!
Onsite progress
Visit our Photo Gallery to follow the progress of our onsite clear-up days and view the latest project videos.
Here's a few of the latest photos showing our wonderful volunteers transforming the COMPASS site.
As we continue to restore this beautiful site and repair the buildings, we need your help.
To join us for future site-clearing events, sign up here.
Please help us prevent further vandalism by reporting any suspicious activity to the Compass Action Group on:
01224 862008 / compass@cwt.scot
Fundraising
We have a lot of fundraising to do so that we can restore and re-purpose the site for the benefit of the local and wider community of Aberdeen.
Phase 1: September 2020 – September 2021
Tidy outdoor areas with composting and recycling
Restore paths and steps
Survey trees and plan scheduled management
Increase site security to counter crime and vandalism
Start essential building repairs
Begin sustainable refurbishment and re-purposing of some buildings
Set up demonstration garden plots
Appoint project co-ordinator
Engage with local community
Phase 1 Target: £200,000 – ACHIEVED

100%

100%
Total raised so far: £200,000 
Phase 2: October 2021 – September 2023
Develop master plan for revitalisation across whole site
Refurbish and open the multi-purpose hall for community groups
Zero-Waste kitchen / cafe for processing onsite produce and education
Establish therapeutic activities for social prescribing
Plan land-use e.g. wild meadow, composting project, outdoor 'gym' 
Appoint Outdoor Areas Coordinator
Scope and cost sustainable heating solutions for each building
Continue sustainable refurbishment and re-purposing of buildings
To donate or fundraise to help us in Phase 2, click here.
Phase 2 Target: £800,000

22.7%

22.7%
Total raised so far: £181,968 
Phase 3 onwards
Timing and progress in phase 3 onwards will be dependant on funds raised. Staged refurbishment of main building will be a major aim in phase 3 onwards. 
Phase 3 Target: £5 million

0%

0%
About the project
We are excited to announce the launch of COMPASS, a new project to transform the former Waldorf School site into a centre demonstrating practical solutions for healthy, sustainable lifestyles.
The site on Craigton Road, Cults, Aberdeen is owned by Camphill Estates and has been unoccupied since the closure of the Waldorf School in 2014. Keen not to lose the potential of this naturally beautiful & historic site, CWT are taking it on to host COMPASS, with plans to create inclusive spaces that serve and engage the local and wider community of Aberdeen City & Shire.
COMPASS is envisaged as a place where the ethos and practices successfully pioneered for those with learning disabilities by the North-East Camphill organisations will be translated to benefit all who want to improve their health, maintain their wellbeing or explore a more sustainable lifestyle.
The project will showcase:
sustainable building practices with conservation of the listed main building & sensitive repurposing of the others
an integrated, creative health & education approach, supported by the natural & built environment
sustainable social enterprise projects serving the local community and involving those with learning disabilities
organic/biodynamic land use with nutritious food production, demonstration allotments, bee hives, wild flower meadow and woodland
repair, reuse & recycle practices minimising waste and encouraging sustainability
Keep up to date with the latest news, volunteering opportunities and project development by signing up to our newsletter!
About the site
The 4.1 acre site occupies an elevated south-facing position with a commanding view across the Dee Valley and the suburb of Cults Aberdeen. Initially developed as the Aberdeen Convalescent Hospital in 1897, it was later used by the International and Waldorf Schools.
The site consists of:
Main building [C-listed]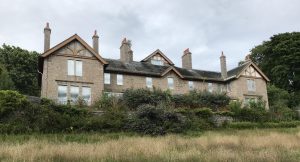 Aim: to repair and restore in line with its listed status, refurbishing and repurposing internally to provide flexible, usable spaces.
This will eventually form the informational and adminstrative hub for the site with plans for educational rooms, multi-purpose spaces and potentially self-catering accommodation units.
All work will be carried out with sustainability principles in mind.
Sports Hall
A large purpose-built space suitable for sports, leisure and cultural activities. Large enough for socially-distanced exercise classes.
Requiring some refurbishment to bring it up to current standards in line with the project's sustainability ethos.
Previously used by a range of  Aberdeen City & Shire sports clubs, COMPASS plans to encourage such use once again to promote community health and wellbeing.
This is likely to be the first building we have up and running. We invite inquiries from any interested parties to contact us on compass@cwt.scot
Craft, art and science block
Built around 1987, this two-storey building has bright, south-facing windows.
It contains a suite of medium-sized spaces with potential use for a range of activities such as studios for local artisans, re-use/ recycle/repair facilities, community art, craft or cookery classes.
The space will be refurbished to enable flexible use.
Kindergarten building
Built in 2010, this is the newest building onsite.
Unfortunately due to vandalism, this has been extensively damaged by water ingress.
The first steps will be to repair the roof,  strip out the interior and allow to completely dry with a view to future refurbishment.
As this building is on the level, it would be re-modelled to ensure it is accessible for all.
Primary school building
Situated on the lower part of the site, the single-storey building again offers flexible space which could be transformed for a variety of uses. 
Garden and woodland area
The natural environment of the site offers opportunities for:
growing fruit and vegetables
demonstration allotments
compost production
bee keeping
flower growing including wild meadow
In line with Camphill ethos and sustainability practices, the land on the site will be managed according to organic / biodynamic principles. There will be a strong emphasis on using the land to support people's health and wellbeing.
During Phase 1, we plan an initial tidying up involving local community volunteers and people with learning disabilities from the local Camphill communities.
Professional input is currently being sought to plan appropriate management of the woodland areas.
About the Camphill Organisations
Camphill began here in the North East with a group of refugees fleeing Nazi Germany in 1940. It pioneered living alongside people with learning disabilities in a home-like setting. From its beginnings here in the North-East, it has grown into a world-wide organisation celebrating its 80th year in 2020. You can find out more about Camphill in Scotland here.
Camphill Estates owns the land and properties used by five of the six local Camphill organisations. It is also a charity.
These are the Camphill organisations on your door-step:
Camphill Wellbeing Trust provides extended medical and therapeutic services to help people of all ages address illness, build resilience and maintain wellbeing.
Beannachar provides a therapeutic and supportive environment for young adults with special needs.
Camphill School Aberdeen provides residential and day services for children and young people with learning disabilities and other special needs.
Newton Dee offers residential and day placements for adults with learning disabilities and other special needs.
Simeon Care is a care home with 23 en-suite bedrooms for older people who can no longer manage in their own home including those with dementia and Parkinson's.
Tigh a'Chomainn provides home support for adults with learning disabilities and other special needs.
If you are interested to find out about COMPASS, have knowledge or skills that might be helpful or want to volunteer to help us, please get in touch. We'd love to hear from you!